The leader in custom tailored
colocation

and

telecom

solutions

Our philosophy revolves around personal service.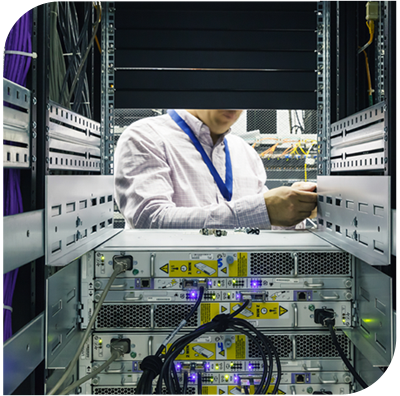 Why Hosted Backbone?
At Hosted Backbone, we don't believe in 9's.
Our number is 100%.
Our philosophy revolves around personal service. There's no national call center – we are local. We are part of the community and want to know our clients in and out of the office.
No two companies are alike. We don't have part numbers. That's why we have solutions for our clients tailored to their needs. From colocation to connectivity to network management – we can help with any infrastructure need.
Colocation
Need to host a server – or servers? Hosted Backbone has you covered.
We try to keep it simple. One price per rack unit includes rack space, power, Internet port, and an out-of-band management port.
Reliability
Hosted Backbone offers a 100% uptime SLA demonstrating our commitment to the highest level of service.
Scalability
We can handle any footprint from one rack unit to hundreds.
Connectivity
There's no need to worry about how to connect to your servers. We peer with numerous carriers to provide the best experience possible.
Power
120v, 3-phase, -48vdc – we offer anything you need. All power is fully redundant and guaranteed to be available 100% of the time.
Security
Our environment is protected by multiple layers of physical security. Reaching the colocation areas requires passing through at least three physical security checkpoints with multi-factor security access as well as cameras covering all areas.
Remote Hands
Staff is available 24x7x365 to put "hands on" your server should you need anything. You can be sitting on the beach while we're doing the leg work for you.
Connectivity
From 10 meg to 100 gig, Hosted Backbone can take care of your connectivity needs.
Managed WAN
We aren't tied to the one carrier available at all your locations – we can integrate the best
carrier at each location. We peer with all the major carriers and can provide "carrier-agnostic" WAN solutions.
Internet Access
Hosted Backbone can provide fiber-based Internet service from 10Mbs to 100Gbs
Built for Uptime
Downtime costs money. Our infrastructure is built for uptime with N+1 redundancy on the core and in some cases, dual N+1.